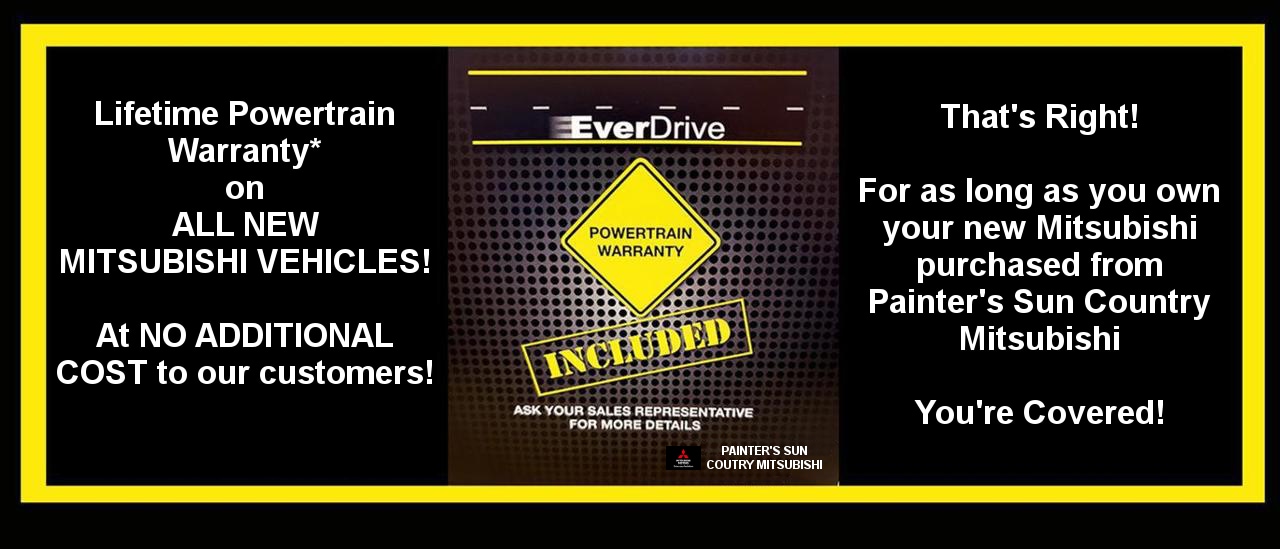 Painter's Mitsubishi offers a Lifetime Warranty program called EVERDRIVE on all of it's used vehicles 7 years or newer and under 75,000 miles! While a few exceptions do apply, this program is valid on all makes and models as long as the year and mileage maximums have not been exceeded on the vehicle.

It is a limited powertrain warranty program that lasts as long as you own your vehicle. You are required to perform your manufacturers maintenance to keep the Lifetime coverage in effect.

A Low $100 Deductible offers peace of mind for the road ahead for your engine, transmission, transfer case, drive axle plus you will receive towing assistance for as long as you own your vehicle as long as the maintenance is up to date.
Lifetime Peace of Mind
Low Deductible

Our Lifetime Warranty Program only requires a $100 deductible per occurrence and there is no maximum mileage or ownership term. So rest easy knowing that as long as you own your vehicle, you are covered for the most costly of powertrain repairs.
 

Peace of Mind

With superior coverage, you will have true peace-of-mind throughout your ownership experience. Our limited Lifetime Warranty Program includes repairs to the engine, transmission, transfer case, drive axle and towing assistance!
 

Maintenance

Once the vehicle passes all safety inspections, only then will it receive a Lifetime Powertrain warranty. Once you take ownership of the vehicle, you are required to keep up on your manufacturer's scheduled maintenance in order to keep the Lifetime Warranty in place. 
What if Repairs are Needed?

If your vehicle incurs a breakdown, you must immediately take the following steps to file a claim and prevent further damage. This limited warranty will not cover the damage caused by continued operation or by not securing a timely repair of the failed component.

Take your vehicle to a licensed repair facility

If your vehicle breaks down, return to the issuing dealer. If this is not possible, take your vehicle to any licensed repair facility.

Provide the repair facility with a copy of your Lifetime Warranty or warranty number 

Obtain authorization from the administrator by calling the claims department at 1-888-999-5292. Prior to any repair being made, instruct the service manager at the repair facility to contact the administrator to obtain an authorization for the claim. Any claim for repairs without prior authorization will not be covered except as provided under emergency repairs . The amount authorized by the administrator is the maximum amount that will be paid for repairs covered under the terms of this limited warranty. Any additional amount must receive prior approval.



Claims Assistance 

For claim assistance, please contact the Administrator at: 1-888-999-5292.




Towing Assistance 

In the event your vehicle must be towed to a repair facility, you will be reimbursed up to $75 per occurrence.